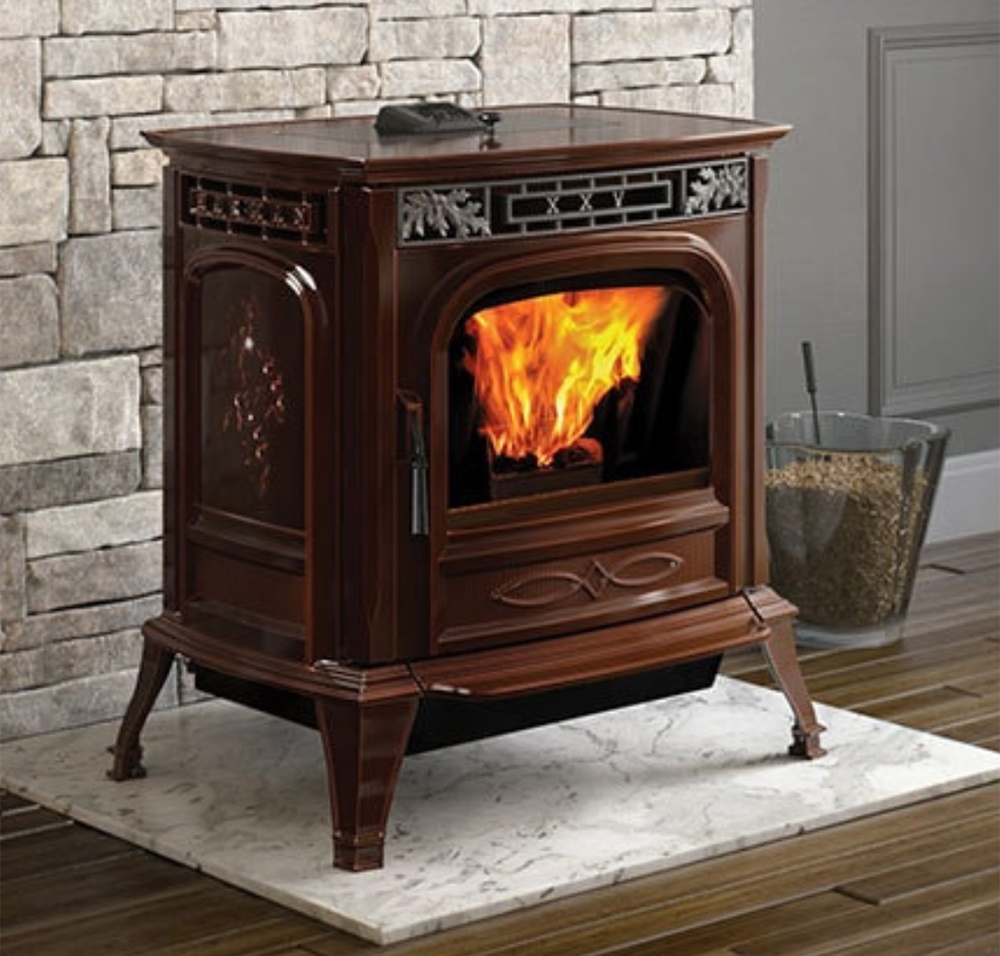 You may be familiar with the standard methods of heating a house—oil, electricity, and gas heat—but when it comes to burning these as your main source of fuel, things can get a bit pricey. Rather than turn your thermostat down to save a few dollars over the cold season, you may want to consider a cost-saving heating alternative, like a pellet stove.
A pellet stove is an alternative heating source available as a freestanding stove or as a fireplace insert, and burns a renewable biomass fuel known as pellets (learn more about wood pellets here). It operates similar to a wood burning stove but takes a lot less maintenance and cleaning.
Pellet stoves are a great option for many homeowners and are the preferred choice for over one million homes across the United States due to their convenience, comfort, and cost-saving benefits.
How Do Pellet Stoves Work?
All pellet stoves have a fuel hopper, which is like a basin that holds the wood pellets to be burned. The hopper then feeds the pellets into a combustion chamber called a "burn pot" via an electric auger where the pellets burn and produce heat.
The rate at which the pellets are fed into the burn pot is predetermined by you by setting the goal temperature of the room via the stove's thermostat. This means that to maintain the set temperature, the fire may automatically range from roaring to a low burn or go out entirely.
After the pellets have burned, the leftover ash is filtered down beneath the burn pot into the ash tray, located beneath the stove, where it can be cleaned out and disposed of easily.
Overall, pellet stoves are very easy to use, which is one of their best benefits. Using the stove is as simple as turning it on, setting the temperature, pouring in a bag of pellets, and walking away. The stove will burn through the pellets in the hopper at the set pace to maintain the set temperature of the thermostat, so you don't have to worry about keeping the fire going.
What Kind of Maintenance Do Pellet Stoves Need?
As easy as pellet stoves are to use, there are a few basic rules for maintenance and cleaning that must be adhered to ensure the pellet stove remains in optimal operating condition. The basic maintenance of a pellet stove is very simple and does not require much time.
Adding pellets to the hopper
Scraping the burn pot
Removing ashes from the ash pan
Cleaning the stove glass
On top of the regular cleaning and maintenance you can do yourself, it is highly recommended that you get your pellet stove professionally cleaned annually. A professional team will be able to deep clean your stove and ensure that all mechanical parts of the stove are working properly so that your stove can continue operating for years to come. Request an annual pellet stove cleaning here.
Are Pellet Stoves Right for Me?
Determining whether a pellet stove is the right heating solution for you comes down to one simple question: what are you looking for in a heating solution? Many pellet stove owners purchased their pellet stove because of their cost-savings, convenience, and environmental benefits. We've outlined a few pros and cons of owning a pellet stove below.
Heating your home with a pellet stove has many benefits, including:
Pellet Stoves are Very Convenient: Pellet stoves operate quietly and are easy to use—just pour a bag of pellets into the hopper and press the automatic ignition button!
Pellet Stoves Can Reduce Heating Costs: Pellet fuel costs less than oil or gas, and the installation of a pellet stove costs less than other heating appliances because of its simple ventilation setup.
Pellet Stoves are a Comfortable Heating Source: Wood pellets produce long lasting heat and pellet stoves have a convenient thermostat that maintains set temperature with the added ambiance of a real flame.
Pellet Stoves are Environmentally Friendly: Pellets are made from recycled wood waste, which makes them natural, renewable, and clean burning with low carbon emissions.
To summarize, pellet fuel is a much more affordable alternative than other heating solutions with its many benefits that can make your life easier, heating bills lower, and home cozier.
On the reverse side, there are some essential things to know about pellet stoves that may be problematic without the right knowledge or proper planning.
Pellet Stoves Need Electricity to Operate: Pellet stoves are powered by electricity for the electric auger to move the pellets from the hopper to the burn pot, so a pellet stove will not operate without electricity of if you lose power. In situations when the power goes out, a generator can be a very helpful tool to have on hand to keep the pellet stove running.
Pellets Must Be Stored Properly: Like storing firewood, if you order your pellet fuel in bulk by the ton, you will need a cool, dry space to store the pellets.
Pellet Stoves Require Regular Maintenance: Like any heating source or major appliance in your home, regular maintenance is required.
With a bit of planning, the cons of owning a pellet stove are very minimal, but these factors can weigh into deciding to add a pellet stove to your home, so they should be known up front.
How Do I Choose a Pellet Stove?
Like any major appliance purchase, there are several factors to consider that may influence your decision. When choosing a pellet stove, you should be conscious of the maximum amount of heat the stove can produce, as well as picking a style that fits with your home that you won't hate looking at every day. Among these factors, one of the most important things to consider is cost.
Adding a pellet stove, or any new heating appliance for that matter, to your home will come with added costs, including venting, labor, and parts. The final price tag of your project will all be dependent upon your current layout and heating situation.
The best bet is to get a free estimate from our team by clicking the link below. From there, you will give us a little information about your project, and you can choose a stove that fits your price range so you can see what your project will cost without all the hidden fees and guesswork.
After making the decision to purchase a pellet stove, next comes the fun part! When you purchase one of our affordable, high-quality pellet stoves, we have a simple 1-2-3 process to get your project completed simply and safely.
Come in to visit our beautiful showroom to tell us more about your project and what you're looking for in a pellet stove. We'll help you find the right model to fit your needs and give you a free estimate.
We will schedule an in-home visit. During this visit, one of our certified, professional service technicians will take care of everything for you. Their job during the in-home visit is to confirm the details and final cost of your project, address any safety concerns, and answer your questions.
Once everything is in place, the final step is to schedule your easy and safe pellet stove installation. All you must do is sit back and relax while our certified in-house hearth service team installs your new pellet stove quickly and safely.
If you're ready to make the switch to cost-saving pellet heat, we're ready to help you get started! Give us a call at 978-355-6343 to talk to one of our helpful sales associates, or click here to get your free estimate.